CUSTOM & MODERN POCKET DOORS
Pocket doors have been used for many years in residential and commercial facilities and have a timeless functionality that carries from generation to generation. Modern design has upgraded the standard pocket door into one of elegance and upscale interior design. Our inventory features high pressured Italian laminate selections of reconstituted wood veneers, matte and high-gloss finishes and lacquered paint in an array of colors. To find out more information about our pocket doors please visit our news page. Our modern pocket doors and modern sliding doors can be found in the most upscale residences and commercial buildings throughout South Florida. Let Dayoris bring out the beauty of contemporary design in your space by adding custom pocket doors. Continue that elegance with the addition of our European-designed hardware selections. 
Our design specialists will help you design the decor of your dreams. Contact us for an in-home or office consultation. You won't be disappointed. We strive to fulfill every customer request and hold the highest customer satisfaction possible.
How does a Modern Pocket Door work?
Installed in the interior of the home, pocket doors use a special concealed track system that allows the door to disappear into a "pocket" in the wall.  Typical pocket doors are top hung and glide along the track attached to the ceiling. Modern Pocket Doors can help overcome many problems in architectural projects.  However, the door disappearing into the wall cavity has certain requirements, such as the necessary clearance for the door width.
Our modern designer Pocket Doors are 1 ⅜"  to 1 3/4"thick which creates a sleeker design.  Available in our Flush With The Wall Door System / Filo Muro, Flush with The Casing Doors System / Filo, Raised Casing Door System / Telaio, Panel Door Projects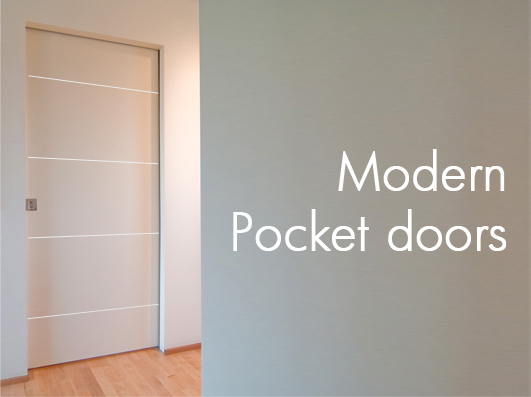 Modern Interior Pocket Doors